Santa's Reindeer — getting ready for the magical flight around the world on Christmas Eve, can now be visited on the iPad through a special holiday arrangement between ReindeerCam and iSwifter. Millions have already visited Santa's Reindeer on their computers and now — by downloading iSwifter– you can see Santa's Reindeer on your iPad, too!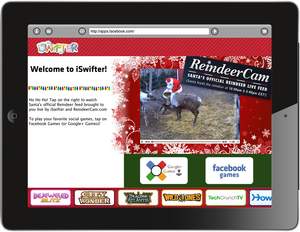 Good boys and girls — and Moms and Dads, can view ReindeerCam on their iPads by dowloading iSwifter at iTunes.
ReindeerCam on iSwifter lets you watch a live video of Santa feeding his reindeer and loading his sleigh on Christmas Eve. iSwifter is the only way to use your iPad to watch these majestic creatures before they take to the air to pull Santa's sleigh full of toys "ReindeerCam is all about keeping the magic of Christmas alive for children," said Adam Loveless, co-owner of ReindeerCam.
"We provide proof for the skeptics that the Christmas spirit is real and so is Santa!"
"Santa is probably the biggest mobile user of all," – Rajat Gupta Founder and CEO iSwifter
"I'm pretty sure he takes his iPad everywhere and with iSwifter, even Santa himself can make sure his reindeer are eating and resting before their big flight," he said.