PepperMob today launched its new mobile app, PepperMob Field, on salesforce.com's AppExchange Mobile, extending the marketplace built for the social enterprise. PepperMob Field is among the first apps to leverage AppExchange Mobile, tapping into the power of the proven Force.com platform, salesforce.com's social enterprise platform for employee social apps. PepperMob Field is currently available for test drive on the AppExchange Mobile.
PepperMob is changing the way sales reps work. With PepperMob Field, reps are empowered with instant mobile access to Salesforce CRM data, documents, account news and LinkedIn through one application via mobile devices. Sales teams can now focus on their customer interactions and close deals faster. PepperMob Field is available on the iPhone and iPad and compatible with iOS 4.0.2 and later.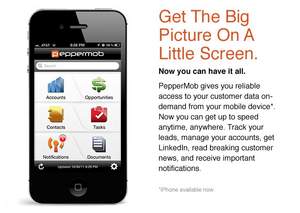 "Field sales and support teams need simple, quick and anytime access from mobile devices to their customer data from social channels to be at the top of their game. We deliver that." – Nirmal Nair CEO PepperMob
"PepperMob is delighted to serve salesforce.com's customers, helping their field teams increase productivity and drive more revenue, faster," Nair said.
"Customers continue to look to our partners as they transform themselves into social enterprises, and partners like PepperMob are helping them." – Ron Huddleston senior vice president ISV Alliances salesforce.com
"Apps like these exemplify the extraordinary reach of the AppExchange marketplace and continue to push the social, mobile, open and trusted capabilities customers expect from the salesforce.com ecosystem," he stated.

The number of social networking users has surpassed e-mail users. And people access the Internet more from mobile devices than from desktops. Salesforce.com is helping companies meet the challenge of this social revolution with the social enterprise.
Today, companies must change the way they collaborate, communicate and share information with customers and employees to stay competitive. By leveraging salesforce.com's social, mobile and open cloud technologies, companies can transform themselves into social enterprises by developing social profiles of customers, creating employee social networks and building customer and product social networks.
Cloudforce New York attendees will be able to learn firsthand how to join this transformation.
Crafted for the mobile life style, PepperMob Field provides flexibility to easily access customer information, update and forecast on the go, on or offline. Sales teams have secure mobile capability to track leads, manage accounts and contacts, collaborate, get relevant customer news, and receive important notifications.