Now is the best time to travel and help out struggling economies further afield. Cheapflights.com.au, the travel deals comparison site, has just the ticket for your next trip. The website spills the brew on the world's best Oktoberfests outside of Germany and teaches travellers the many ways to cheers in destinations that aren't normally top of mind when it comes to beer.
When Germany's Crown Prince Ludwig married in 1810, who could have predicted that the beer guzzling tradition for celebrating his marriage would continue 200 years later? Today, this two week festival has become a tradition not only for Germany, but for countries throughout literally every corner of the globe from Hong Kong to Cincinnati and Namibia to Vietnam.
"Oktoberfest is a wonderful way to welcome the spring on this side of the globe, and autumn on the other side, which is perhaps why it's been adopted as a tradition by so many different cultures, including many where beer isn't necessarily a regular on the drinks menu."
– Oonagh Shiel, site editor for Cheapflights.com.au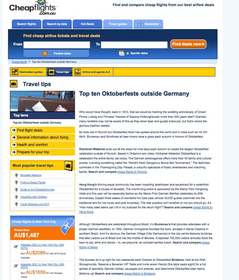 "Whether you're celebrating in Oz or jetting off to a cooler location elsewhere, the variety of festivals available means there will be one to suit every taste," adds Shiel.
Grab a glass and take your pick of the Top 10 Oktoberfests outside of Germany, starting with these first five.
Hong Kong: cheers in Cantonese is 'Gom bui' meaning 'dry the cup'
The thriving expat community in Hong Kong has done a fine job — for 19 years now — of importing lederhosen and sauerkraut for a waterfront Oktoberfest at the start of each November, sponsored by the Marco Polo Hong Kong Hotel. This year will be especially festive, as the Marco Polo German Bierfest celebrates its 20th anniversary. Expect three straight weeks of lively debauchery (last year, nearly 40,000 guests crammed into the traditional tent for live music and pork knuckles). The real question isn't whether or not you should go. It's "How many 1-litre beer steins can I fit in my suitcase home?" Dates: Oct. 21-Nov.12
Dublin, Ireland: cheers is 'Sláinte' meaning 'to your health'
Swap the Guinness for Erdinger this fall at Oktoberfest Dublin, one of the many beer festivals happening around the Emerald Isle. Free for all attendees, the ode to Bavaria features a mouthwatering menu of bratwurst, spätzle, Burgundian ham and other traditional German dishes. Visitors eager to stay late are required to purchase a 6EUR wristband, guaranteeing a hearty meal to help soak up the wheat beer in the wee hours. One euro from every wristband sold helps disadvantaged children from Dublin — an excuse in itself to raise a glass. Dates: Sept.22-Oct.9
Stockholm, Sweden: cheers is 'Skål' meaning 'cheers!'
Beer festivals are well underway in Norway, Denmark, Iceland, and throughout Scandinavia by the end of each September, but it's Stockholm's Beer & Whisky Festival — also known as Stockholm Oktoberfest — that's made the cut in this case. Swedes add whiskey to the mix for two consecutive weekends, giving visitors the chance to try libations from nearly 100 exhibitors. Sign up for beer and whiskey "schools," where novices and seasoned drinkers alike get the chance to learn from experts in Level I and II classes. Thirty-four thousand attendees took part in the festivities at Congress Centre last year, so be sure to reserve your tickets soon. Dates: Sept. 29-Oct.1 & Oct.6-8
Blumenau, Brazil: cheers is 'A sua saúde' meaning 'to your health'
Though Oktoberfests are celebrated all over Brazil each October, it's Blumenau's that provides attendees with a quintessential German aesthetic. In 1850, German immigrants founded the town, situated in Santa Catarina in southern Brazil. And it's obvious: the German Village (Vila Germânica) in the city centre features German-style buildings that take visitors out of Brazil and drop them smack-dab in the middle of Bavaria. And in October, that means Oktoberfest. A reported 700,000 visitors annually flood the town to eat, drink and dance — to an oompah-samba fusion, we assume. Dates: Oct. 6-23
Brisbane, Australia: 'Down the hatch, mate!'… no explanation required!
The upside of opting for Brisbane's Oktoberfest instead of Munich's is the former's spectacular spring weather. And, the sheer joy that comes with holidaying in Queensland, of course. The Aussies do it up right for two weekends each October at Oktoberfest Brisbane, held at the RNA Showgrounds. Reserve a Bavarian VIP Table and invite seven friends (the table seats eight) for an elevated view of the space, a full spread of specialty German dishes, sausages and pretzels, and take-home Oktoberfest beer steins. Bottoms up! Dates: Oct.7-9 & 14-16
For the full list of Top 10 Oktoberfests outside of Germany, visit http://www.cheapflights.com.au/travel-tips/top-ten-oktoberfests-outside-germany/.