A new award was given at the 2011 Great American Beer Festival.
Black Star Beer, the golden lager from the Great Northern Brewery in Whitefish, Montana awarded the biggest beer fan with the ultimate beer fan trophy.
The 466 breweries and 2400 beers being poured at this year's Great American Beer Festival would not have been here without their die-hard fans.
The festival attracted nearly 50,000 beer drinkers from across the country.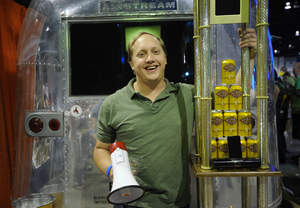 Black Star Beer and the Great Northern Brewery announced T.J. Schneider of Denver, CO, as this year's ultimate beer fan at 9:30pm in front of their vintage Airstream trailer.
The honoree was chosen at random from the thousands of festival-goers who checked in at Black Star's booth to sample the fine beers from the Great Northern Brewery and enjoy the mobile photo booth.
In his acceptance speech through a bullhorn to the crowd, T.J. yelled, "On behalf of all beer lovers around the world, I accept this magnificent trophy with great honor."
There will be many more esteemed awards given during Saturday's session at the Great American Beer Festival, but the beer fans and this year's honoree, T.J. Schneider who were there to take home the gold.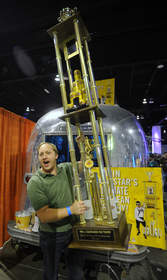 ---