The free personal safety app bSafe™ is available worldwide on iPhone® and Android™, it was announced today. The app will also go live on BlackBerry® devices in the next few days. Following its meteoric success in select European countries (topping charts and beating Angry Birds® and Facebook® app downloads), bSafe is now ready to provide peace-of-mind to users everywhere.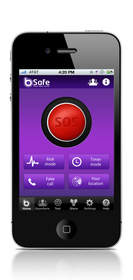 bSafe is a free smartphone app that gives users a way to instantly reach their selected contacts — Guardians — when help is needed. When the one-touch SOS is employed, Guardians are alerted with an emergency text message that includes the sender's exact location. A direct call is also placed to one specified Guardian. Additional features are showcased in the bSafe demo video and at neverwalkalone.com.
"bSafe is free, easy and it provides tremendous peace-of-mind. It is the one app we want everyone to have and hope they never have to use. If you are getting or giving a new smartphone this holiday season, bSafe is the most important app you can install." – Silje Vallestad Founder and CEO
bSafe is the latest offering from Bipper AS, the privately owned Norway-based company founded by tech-Mom Vallestad in 2008. Bipper® is dedicated to developing mobile safety solutions for the international market. The company's internationally recognized, award-winning first product, Bipper, is designed to help parents monitor and control kids' mobile use. For more information, www.bipper.com.
---